On Monday 27 May 2013, we asked our #twitter followers one question :-
"What Is The Highlight Of Your Season?"
The response was limited to the length of a single tweet, 140 characters.
We received tweets from all aspects of the footballing world, these are the replies, which we'll be constantly updating.
01 : Oldham Hulmeians AFC @TheGaffer13
Binnsys 90th minute winner away at title rivals Blackrod, then running round the back of their net!
02 : Mark Hobson @TriggerHobson
Easy really, the away win at Brighouse. 1005 crowd for step 5 simply amazing day!
03 : Athersley Rec FC @AthersleyRec_FC
Game vs AFC Emley away. The feeling after 90mins was unreal! The start of the Rec In Crew revolution as well.
04 : CASTLECROFT RANGERS @CastlecroftRngr
The whole season, it's been fantastic.
05 : North Wales Dragons @NWalesDragons
Our story is an amazing one, we have come ever such a long way in four wonderful years! :-)
06 : stuart welsh @studog66
Beating Brighouse away and Retford at home to win NCEL premier division. Amazing atmosphere both games.
07 : Tony Greenall @TonyCSGreenall
He's hit the bar! He's hit the bar!...GO ON COPPS!...YYEEESSS!! The away end of Griffin Park, last second of the season.
08 : Keef J (100% LUFC) ?@Leeds0113
Seasons highlight was the Leeds United win at Huddersfield. From Scarborough Athletic point of view is this...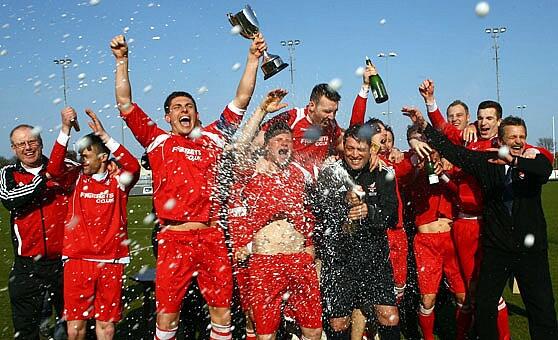 09 : Bala Town F.C. @BalaTownFC
Easy choice - going on a 13 match winning run at the end of the season to qualify for Europe :)
10 : Scarborough Ath F.C. @SeadogUpdate
Beating Brighouse 2-0 at their place and we could finally see that NCEL Championship on the horizon & coming closer.
11 : Jason Dodsworth @Doddo23
When confirmation we were promoted came thru against ponte!!! Unreal scenes at San sheerian!
12 : Darren Norton @knockernorton1
Seeing my team North Ferriby United win the EvoStik NPL & reach the clubs highest position in 80 year history.
13 : Craig - GASB Founder @engoism
Drawing 2-2 with Knaresborough after been 2-0 behind in the 88th minute...also #NoMoreTeletext was born that day :)
14 : . @JordWildey
2-1 win away at Parkgate in the cup. Rate night!
15 : Manisha Tailor @ManishaTailor1
Arsenal getting the nail biting 4th place spot & Arsenal Ladies winning The FA Cup. Simply brilliant.
16 : David Brown @Brownie89
First goal for the club on home debut.. full time whistle following Retford game followed by mass pitch invasion.
17 : Simon Cope @simonjcope
Giving Scarborough Athletic asst manager Darren France a huge hug after our title winning game against Retford.
18 : Luke Lazenby @LukeLazenby95
Touring the local football league grounds and being awarded the George Mellor Trophy.
19 : steve lazenby @stevelazenby1
My highlight was officiating along side my son Luke and watching him progress to level 6.
20 : Gary Simm @supergaz
Winning 15 games in a row to gain promotion...massive effort from the boys..celebration after Goole draw took us up.
21 : Darren Burton @dazpburt
My first season as a supply league assessor has been really rewarding. Seen some good young lads coming through the ranks.
22 : Gemma Gale @GWFDO_Sheffield
Mine had to be the U21 final at Chesterfield FC!
23 : St Johns United @stjohnsutd
Hosting the first Non FIFA International Football Tournament on the Isle of Man.
24 : Rob Hornby @robhornby
The Better than expected Notts Senior League Groundhop.
25 : Sports Performer @SportsPerformer
Probably Farsley AFC 2-1 win at Ramsbottom in March...totally unexpected.
26 : Tom Harban @tomharbs85
When we scored the winner against Emley and celebrated with the newly formed rec in crew!
27 : Shaun Penn @Penny916Penn
Personal highlight has to be save v's shirebrook 2-1 up tip on to bar at full stretch. We break n score.
28 : Darren Bell @Oakwell
2-1 win away at Emley was my 2nd choice it was point of season we all came together and could see belief in eyes.
29 : ParkgateFC @ParkgateFC
Probably the victory over Esh Winning in the FA Vase.
30 : adam white @addywhite8
Game vs Shirebrook away. Ended bad run in style, hard work,quality when needed, all lads were immense!
31 : Tadcaster Albion @TadcasterAlbion
Tadcaster Albion 4 Skelmersdale Utd 1, FA Cup 2nd Qualifying Round.
32 : Brighouse Town FC @brighousetownfc
Isle Of Wight.
33 : Dec Welford @DecWelford
Ponte(a) goal of season. Won us league!
34 : Seadog Blog @SeadogBlog
Barton coming back from 3-0 down to draw 3-3 with Brighouse just after Boro went 2-0 up v Retford.
35 : Karl @footysphere
Visiting Teversal FC & finding to my delight they had some Henderson's Relish to put on the pies
36 : Darren Bradwell @Dazzi1712
Dronfield Town Securing CMFL North league title on last game of season which meant promotion to NCEL.
37 : Jack Briscoe @JackBriscoe23
The amount of times we came from behind to win. Especially against Shirebrook showed what Athersley Rec is about, and also retaining the Sheffield Cup.
38 : olivia & alison @olivia_alison
Highlight of our season @pro5uk winning a hard fought battle against Watford to earn our place in FA Fives Finals at Wembley!!
39 : Alan Biggs @AlanBiggs1
Working highlight was covering a good old fashioned FA Cup shock for Final Score...Luton's 1-0 home win over Wolves round 3.
40 : AFC Liverpool @AFCLiverpool
Playing Skem Utd off the park to reach the Liverpool Snr Cup Final :)
41 : Dunsbyowl @Dunsbyowl
DJ (Dave Jones) & team turning our season around & securing Championship football for 2013/14.
42 : Martin Dowey @Mjdowey
The win at Brighouse, may have been raining but the atmosphere was like Scarborough's good old days
43 : janet Burns @Afcliverbird
Highlight of my season beating skelmersdale utd to get to the Liverpool senior cup final seeing the club improve every year.
44 : bawfc @bawfc
Unbeaten 3yrs running against the team who won the league last year.
45 : David Patterson @Patto1965
Highlights of season 1. Being accepted into the NCEL 2. Meeting some great new clubs and faces 3. Finishing 4th.
46 :
Rob Bernard @Rob_Bernard
Brighouse collapsing at Barton as Boro beat Retford to win the title. Escape from the NCEL was like losing 30kg. So happy!
47 : darcey boyes @darceyboyes1999
Winning Retford to win the NCEL league then massive pitch invasion. Great day. Champions
48 : Robbie Stephenson @Sportsphotorob
Has to be Derbyshire Cup Final with Ilkeston FC. Champions. however FCUM away was great experience and is close 2nd!
49 : Cleethorpes Town FC @CleeTownFC
Meeting all the great people involved in the NCEL and being welcomed into the league.
50 : Allison Lee @allyboogle
Brighouse away!
51 : Adam BARLOW @Ferretimp
LCFC Highlight would be the 5-1 win at Hyde on the last day in front of over 1000 travelling fans to save our BSP Status.
Pre Season playing Doncaster Rovers and seeing such a big crowd our lads weren't phased at all!
53 : Rawson Spring FC @RawsonSpringFC
Winning the League Cup Final at Bramall Lane and achieving our 3rd successive promotion in 3 years!
54 : The Football Attic @FootballAttic
Rich: has to be getting 30K at the Ricoh for the JPT Area Final. Actually, that's the only highlight in a godawful season!
55 : putajumperon @putajumperon
Going into play-off final knowing either way, Holloway would be in another division.
56 : Selby Town FC @SelbyFc
The appointment of manager Ian Dring.
57 : Seadog Floyd @SeadogFloyd
4 points out of 6 in the derby games v Bridlington.
58 : unitedite @unitedite
I'll be honest. I'm struggling to find one!
59 : Tantallon Victoria @TheTallyVic
When big John Thomson scored in the last minute in the cup vs Premier League side DTI to take the game to pens! We won!
60 : Gars @Garsbfc
Going unbeaten at home all season with Worsbrough Bridge FC.
61 : Thomas Taylor @tommytaylor2250
Scoring my first ever goal!!
62 : Matthew Harrison @mophead_88
Guess mine is obvious. Wembley weekend with Swansea and seeing them win 1st ever major trophy. Superb weekend in London!
63 : John Thomson @JTommo84
3-1 down with 8 mins to go. What a game.
64 : Arbourthorne EA FC @ArbourthorneEA
Winning the league with 3 games to go and also knocking Royal Earl out of both league and senior cups in successive weeks.
** Updated : June 05 - 18.45**